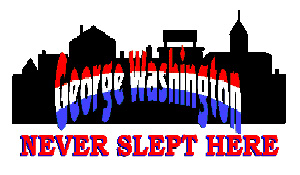 GEORGE WASHINGTON NEVER SLEPT HERE
George Washington Never Slept Here is the story of a romantic triangle played against the backdrop of a progress versus preservation battle in a small town in New England. Part romantic comedy, part political satire, the show has had a long and bumpy road to completion.
The story begins with a rehearsal for the annual 4th of July pageant in the fictional town of Merryville. The event organizer, Linda Parker, is the attractive but headstrong librarian of the town. The "highlight" of the event each year is a reenactment of something known affectionately as "Benson's Blunder" the town's only brush with the American Revolution. Rising to object to the ritualistic perpetuation of this embarrassing piece of local history is an ambitious businessman named Kent Kingman. He dreams of dragging the sleepy town out of its peaceful slumber and into the future. Kent and Linda, once high school sweethearts, are now bitter rivals in a tug-of-war over the future of Merryville.
Kent's plans for renovating the town call for vast and sweeping changes, but Robert, his new business partner and Linda's current boyfriend, convinces him to take smaller steps in an effort to win the "hearts and minds" of the people. Soon Merryville is on the road to becoming a Colonial American tourist trap and Robert and Linda are at odds.
As time passes, the civic war continues to be waged but Kent and Linda begin to rekindle their dormant passion, complicating things even more for all parties concerned. When Kent announces his master plan to build an American History theme park things come to a head and the stage is set for a final showdown.
---
A Bumpy Road to Completion
I don't know exactly when I started writing George Washington Never Slept Here. It was either the late 1980's or the early 1990's. I do know that it wasn't completed until April of 2000. What happened in between? Not much as far as this show is concerned.
The show got off to a fast start. I was writing music at a quick pace but the book was proving to be a little more problematic. I had written a couple of outlines of where the story would go, but I seemed to be writing music so much faster than text that I had to keep adjusting the libretto to match the music, not generally a very good idea. I believe that music should generally serve the book, and not the other way around.
What really killed the show back then was an event that I had no control over whatsoever. The satirical highpoint of the show involved a plan to build an American history theme park, an idea that I found so amusing and ludicrous that I wondered whether I had gone too far over-the-top. Much to my shock and dismay, I one day discovered that the Walt Disney Company was planning to construct exactly the kind of theme park I had described in my play. The fact that they were planning to build it in an area that was already rich in historical landscape was creating a lot of controversy and eventually the theme park idea was dropped. However, by that time I felt that the damage was done. Everyone would think that I was writing about the Disney park and the absurdist nature of the comedy would be reduced, if not eliminated.
I finally decided to drop the show and move on to other things. My early musicals were often scored with the aid of an Amiga computer but by the mid 1990's I had moved over to the IBM world. In early 2000 I hooked up my old Amiga to start transcribing the music for shows like Crusade and Julius Caesar Conquers the Martians to the computer format I use today. While digging through my old box of disks I ran across the files for George Washington Never Slept Here and just for fun, decided to take a look at it. Much to my pleasant surprise, some of the music held up very well. Suddenly things started to click and I was off and running on one of those manic creative binges that I've become famous for. It wasn't quite the incredible pace of Julius Caesar Conquers the Martians (which I wrote the book, music and lyrics for in just 10 days) but in a couple of weeks I had finished a very new version of a pretty old show.
The American history theme park is still plays a pivotal role in the story, but I felt that by now most people would have forgotten the whole Disney debacle. On top of that, the Disney experience had actually validated the point of my show. People stood up against the giant corporation and made their objections heard with resounding success. It was a case of life imitating art, then art imitating life.
This new version of the show has become less of a political satire and more of romance, with a complicated love triangle played against the backdrop of preservation versus progress in a small town.
If Disney had actually built their proposed theme park, I doubt if this show would ever have been completed, but they didn't and the rest is...history.
Scott Freiheit - April 3, 2000
---
Update
Once again technology plays a hand in determining the fate of this show as I've had some trouble locating all of the old files. Hard drives crash, disks get lost, recordings are made on obsolete equipment that I can't play back anymore, printed copies vanish into cardboard boxes that are never seen again. Much of the work I've created in my life is already lost forever due to things like that but I'm still poking around trying to find whatever exists of this show. (At least I still had a copy of the logo to put up on this page!) Hopefully somewhere along the line I'll be able to reconstruct the thing and take a fresh look at it once more.
Scott Freiheit - August 6, 2017